Mechanical Engineering Home

Information For

Undergraduate Students
Programs & Courses
Careers & Employment
Mechanical
History
What Does a Mechanical Engineer Do?
How does one become a Mechanical Engineer?
What will you gain?
What will be your main areas of expertise?
Where will you work?
What will you study?
Why study at The University of Adelaide?
Famous Mechancial Engineers and Alumni
Mechatronic
Aerospace
International Students
Course Manuals
Work Experience
Design Projects
Timetables
Past Exams
Postgraduate Students
International Students
Staff
Business and Industry

Information About

The School
Our People
Research Activities
Consulting Services - MechTest
News



School of Mechanical Engineering
THE UNIVERSITY OF ADELAIDE
SA 5005
AUSTRALIA


Telephone:

Facsimile:


How to become a Mechanical Engineer?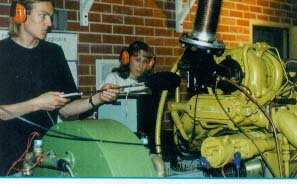 First of all you need:
a strong interest in mathematics and science
a strong social awareness and concern for the quality of life
a desire to put ideas into action
a curiosity about how things work and how to make them better
a good academic background with above average year 12 results in Mathematics I and II and Physics
ability and determination to succeed and to continue self-education upon completion of your studies
good communication skills
a Tertiary Entrance Ranking high enough to gain selection within the competitive quota